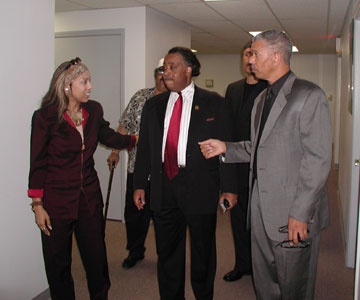 Dr. Al Sharpton visits Trade Street Galleria to support and speak to The Triad Business Network, International.

Good Dividends
As Tanya Wiley's career climbs, so does the help she gives to the community
She's active in Winston Salem's Arts District and has a real soft spot for children

By Carey Hamilton

WINSTON-SALEM – Tanya Wiley believes too many businesspeople are obsessed by the almighty dollar.
At the young age of 30, she has learned there's a much richer side to life.
"I think sometimes we get too consumed by money, money, money," said Wiley, the owner of WB & Associates development and property management company. "I want to be able to make a difference and the only way I can do that is by helping other people."
Wiley said that her quest to help is part of her strong relationship with God. And even as the demands of her career climbs, she makes it a priority to assist the community, especially children.
Wiley is involved in the Youth Are the Future mentoring program; she gives seminars for single mothers; she has won recognition for the March of Dimes healthier babies campaign; and she recently lent her support to the student formed group Children Against Racism and Violence (CARV).
"I have watched her develop," said Vivian Burke, a Winston Salem alderman, who has known Wiley for more than 15 years. "She has a community mind. She is interested in uplifting and working with people in a positive way. And for a young woman who grew up here and has developed a business here, she is really an asset for the City".
Wiley and her husband, Dorrel Brown, have not decided whether parenthood is in their future, by they adopt other people's children and love them as if they were their own.
Brimming with pride, Wiley enthusiastically points at pictures of her "godchildren" in her third floor office in the Arts District on Trade Street. There are about a half-dozen photos of grinning children, including the son of her good friend Anthony Smith, a.k.a rapper Tone Loc.
"I just love kids. I'm just a sucker for them," Wiley said with a laugh. "I get teary-eyed when I think of one of them coming up and hugging me and saying 'I love you, Miss Wiley'".
The long hours
Part of her indecision over motherhood stems from her parents bitter divorce and the state of today's world. She also wonders if she would have the time to be a good mother.
Over the past few years she has put much of her time into her career.
Since 1997, Wiley has grown her publishing and printing business by 35 percent and boosted revenues for the property management company by 50 percent.
Wiley puts in the time it takes to survive a start-up venture. Days that begin at 7:30 a.m. and end past midnight aren't uncommon.
She's also a diligent goal setter who doesn't believe in quitting.
"I don't mind taking calculated risks," she said. "I envision goals first and then do it."
But she admits there have been struggles.
"Being a black female in business is a little more difficult," she said. "People have stereotypical images in their minds. It's almost like you have to work twice as hard to prove yourself… and even then the good times are sometimes challenging."
An avid learner
After graduating from Winston Salem State University in 1991, Wiley landed a job with the US State Department in Washington DC.
While working, she took courses at George Washington University to become a paralegal.
An avid learner, Wiley developed an interest in graphics and publishing. In her free, unpaid time, she observed the graphics departments at the State Department and the Pentagon and learned about the trade. That education set the foundation for her future business.
Once she left the State Department, she landed a job as a paralegal for TMG Records in Los Angeles, California. She researched artists' contracts, and it was there that she met Anthony Smith, the rapper whose hits "Wild Thing" and Funky Cold Medina" propelled him into the limelight.
The two became fast friends, and Smith even provided a place for her to live when she couldn't afford the exorbitant Los Angeles rents.
During this time, Wiley took an interest in real estate as this was one of the things that her good friend "Tony" told her would always yield a "good return".
While her time in California was exciting, she missed home and her fiancé. She returned to Winston Salem after Brown unequivocally told her he was not moving to California. The two were married in 1997.
Once back in Winston Salem, Wiley decided to draw from her graphics learning experience in Washington and form a publishing and printing company.
Using all her savings, she purchased a computer and fax machine. She set up an office at home, designed a portfolio and set out to secure clients.
Eventually, Brown joined her and the two became business partners.
True Initiative
Dudley Products, the multi-million-dollar hair care business owned by Kernersville entrepreneurs Joe and Eunice Dudley, was WC Publishing's first customer.
"The first thing I really think about her is she is a lady with true initiative," Joe Dudley said. "She's got courage, she has integrity and she has a vision. She's a lady everybody needs to watch. She's on the move."
After two years, the business outgrew the couple's home and Wiley went searching for a building.
Because she envisioned the potential that Downtown Winston Salem could have, she started her search there and would eventually lease the Trade Street property from owner David Shannon, president of JDL Castle Corp., with an option to buy.
In two years, they transformed the Trade Street building from an abandoned space to a small city center. Wiley and her husband sublet the space to 15 tenants and revived the once-dead building. She would then exercise her option to purchase and has now become one of the first African American female building owners in downtown Winston Salem.
Wiley has plans for roof-top dining in the future and she also wants to add more businesses, retail shops and studios. But most important, Wiley wants 545 Trade and 550 Liberty Streets to be more than just buildings filled with unconnected people. She envisions a unified center with a focus on the Arts District and volunteerism.
"My ultimate goal is to have a foundation where we can give to children and help them to learn how to become entrepreneurs," she said. "When young people make the decision to attend college, they should not have to worry about where the money will come from. If they start businesses early on, this will not be a problem," she added.
During our walk on the roof, Wiley pointed out many of the buildings downtown and said, "…Just wait … by 2005 Downtown Winston Salem is going to take on a whole new meaning". After looking at her track record, if she continues to be involved with downtown development, Winston Salem is in for a big surprise.

Taken from Triad Business News PROFILE July 2, 1999