Photo on the right is the Trade Street Galleria Building
Tuesday, May 24, 2011 update: Click here to show your support or email us: justice@unitewithus.org for more information.
Click here to read: When banks turn evil. By Liz Pulliam Weston
Sign Petition: Click here to sign petition in support of downtown business.
Hear What People
Just Like You Have To Say
"Most people don't truly understand why a bank that is in business to make money will not take money that will pay them off."
Additional Resources Below
The mission of the National Association for the Advancement of Colored People is to ensure the political, educational, social, and economic equality of rights of all persons and to eliminate racial hatred and racial discrimination.

An official complaint against M&F Bank has been filed with the State NAACP and they are exploring how this situation can be resolved to the benefit of the community as well as the bank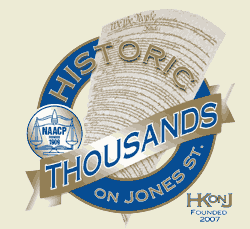 | | |
| --- | --- |
| | Members of The Unite With Us Committee traveled to Raleigh on Saturday, February 10, 2007 to participate in the historic March on Jones Street. Click Here to view photos. |
Read comment from Lender that was working with building owners before foreclosure dispute. I worked extensively with Tanya Wiley Brown to provide them financing to further the growth of their business and the renovation of downtown Winston Salem. I called Mechanics and Farmers on several occasions to let them know I have an approval to refinance the building. They were unresponsive and refused to grant an adequate amount of time for me to complete the financing. In the several years I have been providing commercial property financing I have NEVER worked with a bank that was not willing to work with the client to the extent that Mechanics and Farmers did. In my opinion there seems to have been another agenda with them.

James Young, First Premium Funding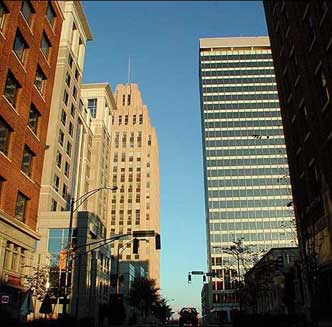 Our City Our Business
• Retail Stores
• Service Businesses
• Youth Businesses
• Franchises
• Professionals
• Distributors
• Manufacturers
• Sales People
• Associations
• Entrepreneurs
• Clubs and Groups
These are the different businesses that have been developed in Trade Street Galleria/Liberty Commons over the past 10 years, and have added to the growth of downtown Winston Salem. Jobs and opportunities will be lost if the building does not remain with WB & Associates. Under the leadership of Wiley Brown & Associates, businesses who ordinarily would not be able to have a downtown presence, were able to become a part of the revitalization process.
The Winston-Salem Community Rallies Behind Local Business Who Has Served As A Downtown Pioneer for 10 Years.

City's largest Black-owned Downtown Business Involved in Foreclosure Dispute
by John Raye
Click here for complete story
There have been great accomplishments in Winston-Salem thanks to the visionary efforts of forward thinking business and industry leaders like those at Wiley Brown & Associates. Our city is home to some of the finest educational institutions in the country. One of the leading tobacco companies in the world
was developed here, employing thousands. Banking and investments spearheaded by pillars of the financial industry have made Winston-Salem a nationally recognized financial center. An airline was born here and still produces employment for hundreds of local people. People wear what we make all
over the world and they stand in line on the other side of the country to get our hot doughnuts. The Piedmont Triad Research Park project has brought the ultimate in medical technology and research. Strong community and business support has made our arts and arts education unparalleled for a city our size. It is imperative that Mechanics and Farmers bank understand the impact that WB & Associates has made in a City that boasts such growth.

We've risen to the challenge...
Now is the time to step up efforts that will have a direct, positive and tangible effect on our community as a whole.

WB & Associates has developed a plan that, when implemented (with the unwavering support of Southern Community Bank) will attract young professionals to downtown Winston-Salem to live, work and play.
Read The AC Phoenix News Front Page Story

THE BUSINESS JOURNAL March 16, 2007 edition: Upset depositors push for withdraw of $50M from M&F. Click here to read complete story.

Winston-Salem Journal front page headline story in the Jan. 25, 2007 edition: FORECLOSURE DISPUTE DRAWS IRE OF BLACK LEADERS Some say bank's actions on Trade Street hurt whole community

---

Above photo was taken at community rally on January 25, 2007 outside of Trade Street Galleria building

•
January 26, 2007 UPDATES:

Mechanics & Farmers Bank informs community leaders that they have ordered appraisal in spite of the fact that they released statements to the Winston Salem Journal that they were "not interested in making a profit".

M&F attorney continues to file court documents even after M&F Bank officials announce to news media and community that negotiations were under way.

•
Mechanics & Farmers Bank experiences a shake up in higher command while the dispute over downtown property continues. Click Here To Read Press Release
•
CLICK HERE to read M&F MISSION STATEMENT Mechanics & Farmers mission statement contradicts their conduct
•

A vast majority of minority owned businesses are undercapitalized, which generally results in business failure. The businesses in Trade Street Galleria and Liberty Commons are 98% minority owned and will be forced to relocate if the efforts of restoring ownership to WB are not successful. Your signature on the petition will allow your voice to be heard and affirm your support of minority owned businesses. READ PETITION

So Easy,
You Can Do It!

Allow Your Voice To Be Heard By Signing The Petition to Mechanics & Farmers Bank. CLICK HERE

---

The face of today's business climate is ever changing. Let's make sure there's an even playing field by ensuring that everyone has access to opportunity.

Winston Salem has transformed even more since this photograph was taken

---

Community comes out in numbers to support Local Business.

(Winston-Salem, NC) - -Members of the community gathered together on January 25, 2007 at 10:00am in front of the Trade Street Galleria Building for a press conference to address their concerns regarding Mechanics & Farmers unwillingness to resolve this matter for the betterment of the community. Several prominent members of the civil rights, government, and faith based communities have come together to display solidarity for what they perceive as a miscarriage of justice. WXII News 12, Winston-Salem Journal and other news media were there to cover the event. The injustice of this matter has come to the attention of several national celebrities. Additional news conferences and rallies are being planned to keep the community informed. Press release will be posted as to when and where these events will be held.




Disclaimer
This site has been developed for informational purposes and to raise community awareness. Information presented on this website is considered public information (unless otherwise noted) and may be distributed or copied. Use of appropriate byline/photo/image credit is requested. In no way does the information presented on this site have harmful intent.
THANK YOU for taking the time to review this site and if you have chosen to sign the petition, we appreciate your support.

©2007 Unite With Us All rights reserved.

The Winston Salem Minister's Conference and other clergy travel to Durham in an effort to save downtown property.

The delegation included Dr. John Mendez of Emmanuel Baptist Church, Dr. Joseph Jones of Zion Memorial Baptist Church, Pastor Moses Edwards of Ephesus 7th Day Adventist Church, Bishop John C. Parks of New Hope Missionary Baptist Church. They were met by other members from the clergy, including Elder Larry Hinton of Durham, NC. M&F officials refused to listen to the voice of reason. The Winston Salem Minister's Conference committee responsible for organizing the delegation is chaired by Dr. Carlton Eversly.

Read what Dr. Seth Lartey, a prominent Winston Salem minister and community leader, had to say about the bank's actions in this matter.




| | |
| --- | --- |
| | The City of Winston Salem has supported WB & Associates and their plans for further developing downtown since 1997 |

Working to bring awareness for positive change.